In partnership with 10K Alumni / Access Salt Lake, Utah Independent Business Coalition is offering a free 6-month trial membership for 10K Alumni members!
What is Utah Independent Business Coalition?
Utah Independent Business Coalition (formerly Vest Pocket) is a collaborative association of Utah's local, small businesses. These "independently-owned" enterprises include the small stores, cafes, manufacturing, and professional services businesses that are at the heart of our community. These businesses lend a unique flavor and a "sense of place" to our neighborhoods.
That's why Utah Independent Business Coalition (UIBC) is committed to building a stronger independent business community in Utah. We're achieving this goal by providing advocacy, education, mentoring, and social connections for small business owners.
What 10K Alumni Members Love About Utah Independent Business Coalition
"I love being informed about what is happening politically and legislatively in direct relation to my business. Having an organization that is giving this perspective focus and working on change is what I have been looking for. Add in the mentoring in the round tables and the network of like-minded businesses and it's everything I need!"
– Rebecca Yates, owner of Ark Insurance, Goldman Sachs 10K Small Businesses Alumni
UIBC Small Business Advocacy
Utah small businesses comprise 99.3% of the state's businesses and employ almost half (46.3%) of the private workforce in Utah. Yet, it's often the large corporations that garner the incentives and preferential treatment to do business in Utah.
Utah Independent Business Coalition has been advocating on behalf of local, small businesses since our founding (as Vest Pocket) in 1998. For more than two decades, we've engaged in proactive advocacy by helping small business owners build positive relationships with other local businesses, government, and community leaders. Our mission also includes informing business owners about emerging issues and policies being considered at the local, state, and federal level that will impact their businesses.
You can help shape our ongoing Small Business advocacy efforts. Get your free UIBC trial membership now, exclusively for 10K Alumni!
What The UIBC Advocacy Committee Has Been Working On This Year…
VOTER GUIDE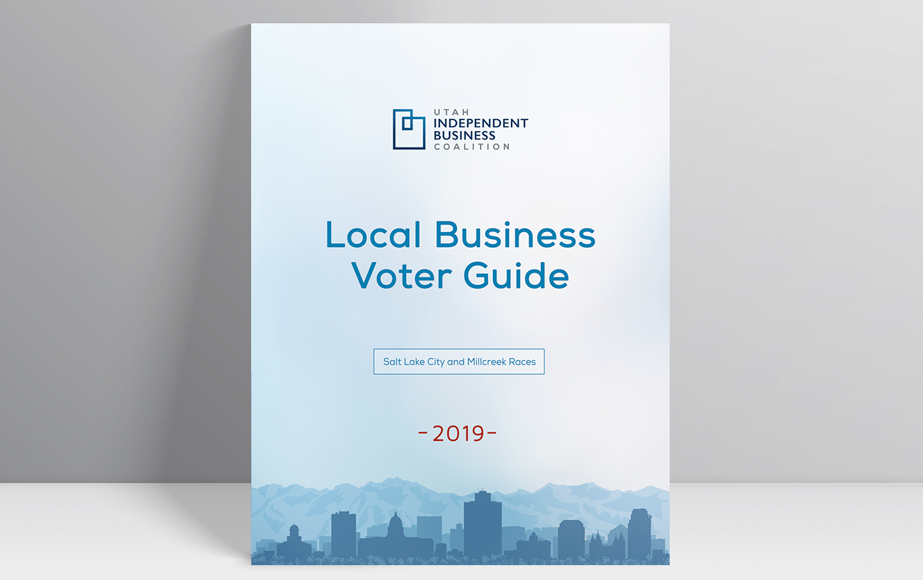 In July of 2019, we published the Local Business Voter Guide. A first of its kind in Utah, the guide empowers small business owners to compare the positions of candidates for Salt Lake City and Millcreek City races on issues specifically affecting locally-owned businesses.
The questions in this guide were submitted by local business owners that are members of UIBC and our partner organizations. The questions in this guide were sent, in questionaire form, to all candidates in the races for Salt Lake City Mayor, Salt Lake City Council, and Millcreek Mayor.
TANGIBLE PERSONAL PROPERTY TAX
UIBC Mentor Round Table Program
What if you could have an outside board of business experts to provide you monthly advice and support for your organization? Now you can. Utah Independent Business Coalition's Mentor Round Table (MRT) program brings independent business owners and managers together into support groups. These groups of 8 to 10 people meet together once a month to discuss their organizations in a structured, confidential, and safe environment.
Who Qualifies?
Members of Utah Independent Business Coalition who are business owners or managers of a locally-owned, independent business in the state of Utah are eligible to apply for the Mentor Round Table program. If accepted in the program, a yearly MRT fee applies.
Free 6-Month Trial Membership In UIBC Just For 10K Alumni!
Free 6-Month Trial Membership In UIBC Just For 10K Alumni!
As a special welcome offer for 10K Alumni members, in partnership with Access Salt Lake, we'd like to offer you a 6-month free trial membership in Utah Independent Business Coalition*. While you can cancel at any time during the trial, we're betting that you'll find your membership in UIBC to be invaluable. Every UIBC membership includes:

Discounted event admission to all Utah Independent Business Coalition Events (for 2 persons for Small Bus., 4 persons for Medium Bus., & 8 persons for Large Bus.)
Admission to UIBC's Facebook Group (Facebook group rules apply)
Eligibility for Mentor Round Table Program (Subject to additional fees & approval of program administrator)
Listing in our Member Directory (logo, name, contact info, short description of products/services)
"Welcome" post on our social media channels and website with your logo and a paragraph or two about you and your company and a link to your website
To get started, choose from the options below.
* = With auto-renewal signup. Can be cancelled at any time during 6-month trial period.